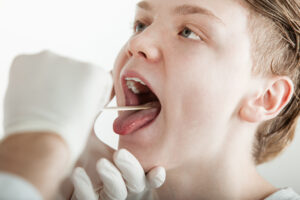 When you have sores and rough patches in your mouth that don't heal, this could be a possible warning sign of an oral pathology. Attention is necessary to make sure the issue is treated early, and doesn't lead to more severe complications. In today's blog, your Santa Rosa and Rohnert Park, CA, oral surgeons talk about treating oral pathologies.
Common Oral Pathologies and Symptoms
Oral pathology is a very general term we use to refer to any diseases that can develop in the interior of your mouth, such as the jaw, cheeks, gums, salivary glands, and more. Most of these are benign, but a few could pose a serious risk to your overall health. Common symptoms include sores, lesions, and rough patches in the mouth that don't heal after two weeks. Red and white splotches, lumps, and swelling could be a sign of trouble, as could sudden weight loss, changes in your voice, or persistent sore throat or hoarseness. When these issues arise, let us know right away so we can examine your smile and find out if you need treatment or a biopsy.
Examining Your Smile
You may contact us when you experience these symptoms, or a general dentist or orthodontist may refer you to us. When you arrive, we will talk to you about your symptoms and then review your medical and oral health history. Next, we use advanced digital imaging technology to obtain clear and detailed images of your smile, including the structure beneath your gums and not visible to the naked eye. These detailed, 3D images will allow us to make a diagnosis with unrivaled precision and accuracy. From there, we can decide if you need further attention. Each exam we provide will be detailed and accurate!
Biopsy and Treatment
In some cases, we may recommend an oral tissue biopsy. This means we take a small sample of tissue and study it in a lab setting. From there, we can decide if you need to see a specialist, or what treatment we can provide in our office. When possible, we want to address these issues with noninvasive and comfortable treatment options, restoring the health to your smile and avoiding major complications or extensive invasive treatments.
If you have any questions about how we approach treating common oral pathologies, then please contact our team today. We're ready to help you enjoy your best smile, with care from a team of skilled and experienced oral and maxillofacial surgeons.
Do You Have Oral Pathologies That Need Attention?
We're ready to offer you a diagnosis and treatment with advanced imaging technology, unique treatments, and care from specialists. If you have any questions about reviewing the health of your smile and addressing oral diseases, then contact your Santa Rosa, CA, oral surgeons by calling 707-545-4625.