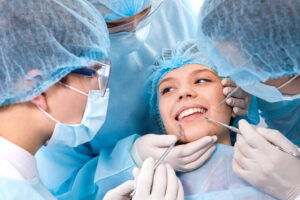 When you have oral surgery, this can help address disease or decay teeth, correct bite balance and treat facial trauma, and even aid in tooth replacement. Once you undergo this procedure and you're ready to go home, what happens then? In today's blog, your Santa Rosa and Rohnert Park, CA, oral surgeons talk about what to expect following your oral surgery.
Your Initial Feelings
When the procedure ends you will likely still be pretty groggy, as oral and IV sedation take time to wear off completely. Initially, you may notice some swelling and mild discomfort and discoloration. This is normal and part of the healing process. Using a cold compress and taking prescribed pain medications can help manage this early stage. At the 48-hour mark, warm moist heat and gently opening and closing the mouth can help ease tension and disorder. We will also provide detailed instructions for your unique case to help ensure proper healing in the first hours and days.
Protecting Your Smile
Fir the first day or two, you need to follow the specific guidelines we send home with you. For some, this could mean eating only, soft foods and drinking plenty of fluids (but avoiding straws) for the first day. Try to avoid hard, rough, and sticky foods. Smoking cigarettes can slow the healing process and if you wear dentures, you may need to forgo their use for the first day or two. Take any medications as we prescribed, and get plenty of rest too. Avoiding activity helps the body focus on healing. We will schedule a follow-up visit to see you and remove any sutures as needed, while also making sure the area is healing as it should. We will always be available to answer any questions you may have, and address any concerns as they arise.
Examples of Oral Surgery
Let's talk a little about the procedures we offer for people. We can perform safe and gentle tooth extractions to prevent wisdom tooth eruption and prepare smiles for implant dentures. We can insert dental implants to correct the impact of tooth loss, and also rebuild weakened portions of the smile with grafting or sinus lifts. We can provide corrective jaw surgery to improve balance and comfort, and also treat facial trauma to improve function and smile beauty. If you have any questions about these procedures, or about what to expect from a treatment, then contact our team today to learn more.
Do You Have Any Other Questions About Oral Surgery?
Our team is eager to offer a solution to serious oral health concerns. If you would like to learn more about the procedures we use to replace missing teeth and correct jaw balance, then contact your Santa Rosa, CA, oral surgeons by calling 707-545-4625.