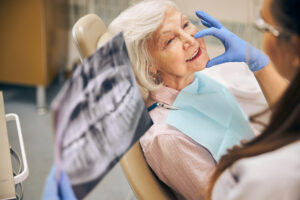 When a complication or injury leads to an imbalance in your jaw, this could mean discomfort and major complications down the road. This could also have a negative impact on your overall appearance too. To help restore the issue and offer improved esthetics, your Santa Rosa and Rohnert Park, CA, oral and maxillofacial surgeons could offer orthognathic surgery.
The Possible Causes of Trouble
Problems with the function and appearance of your bite could occur following trauma or an injury. They could develop due to the shifting teeth that follow tooth loss, or as a result of complications with the growth of your smile or the arrival of wisdom teeth. These could upset the overall balance of your bite and strain the jaw joints. Esthetically, this means an uneven smile and poor facial appearance. This could also increase the risk of painful complications like TMJ disorder and bruxism (teeth grinding), and even complicate how you eat and speak.
Planning Your Surgery
You may be referred to us by your general dentist or your orthodontist, and we will often work alongside them to ensure your treatment smoothly transitions from our office and back to theirs. We begin with CBCT imaging, which allows us to gather detailed pictures of your entire jaw and skull, including the oral structures and joints that could impact your balance. We can then assess the factors behind your imbalance, and create a treatment plan to address them.
Sedation
We always strive to ensure our patients are comfortable during their jaw surgery, so in addition to a local anesthesia to numb the area, we can offer dental sedation. We have nitrous oxide, oral sedation, and IV, and our team is trained in the administration of sedation. You will be mentioned throughout the process, and the medication will ensure you enter a calm and relaxed state with little to no memory of the procedure at all.
Recovery
Using oral surgery, we will adjust the position of your jaws and improve overall balance. A friend or family member will take you home afterward, along with prescriptions for any necessary medications and detailed aftercare instructions. We will monitor your recovery with follow up visits. Afterward, a general dentist or orthodontist will continue care to fine tune various aspects of your smile, such as misalignment. Working together, we can all help you smile with confidence again! If you have any questions about this process, or if you would like to schedule a consultation, then contact our team today.
Interested in Orthognathic Surgery?
Our team wants to help return proper balance, esthetics, and function to your smile again. If you would like to learn more about treating imbalance or injury to your smile, then contact your Santa Rosa, CA, oral surgeons by calling 707-545-4625.