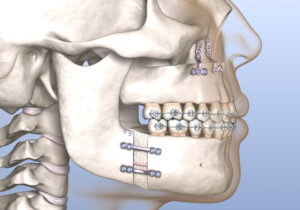 When you have an imbalance in your smile, whether occurring naturally or due to an injury, this could cause serious trouble with your smile and overall oral health. Correcting these issues with orthognathic surgery, or corrective jaw surgery, could bring relief and even improve esthetics. In today's blog, your Santa Rosa and Rohnert Park, CA, oral surgeons talk about corrective orthognathic procedures.
When a Smile Require Surgery
When do we recommend surgery to address your oral health issues? We could offer corrective jaw surgery to help you once again chew and speak with ease, or to correct conditions that impact the growth and development of the jaws. Treatment could also remove any abnormal growths, and also correct trauma that has damaged the smile and could lead to complications with function, health, and beauty down the road. Essentially, if there is a problem with your bite that cannot be addressed with a restoration or orthodontic treatment, then we may assist with surgery.
Sedation and Oral Surgery
You will be comfortable and relaxed through the procedure. In addition to a local anesthetic provided to the portions of the jaw receiving treatment, our team will also provide dental sedation. We have multiple options, from nitrous oxide and oral sedation to IV sedation.  A trained anesthesiologist will be on hand during the procedure to monitor you, and you will enter a deep state of calm with little to no memory of the procedure at all. The effects will take time to wear off, so have a friend or family member on hand to bring you home afterward.
The surgery itself is a collaborative effort, as we will work with your orthodontist or general dentist to ensure care continues after the surgery seamlessly. Working together, we can all help provide results that not only improve function and health, but also provides an anesthetic boost too, helping people feel more confident in their smiles. We often find this procedure to be positive and fulfilling for all parties involved!
Recovery and Follow-Up Care
When the procedure ends, a friend or family member will bring you home, along with detailed instructions to help facilitate a successful healing period, and prescriptions for any medications you may need. Your orthodontist may then use treatment to complete finishing touches for your smile, such as braces or aligners. If you have any questions about our approach to oral surgery, or if you have a concern or injury that needs attention, then contact our team today to learn more.
Does Your Smile Need Oral Surgery?
We would like to help you enjoy renewed balance and symmetry in your smile, so you can feel confident and comfortable again. If you have any questions about transforming and restoring your smile with oral surgery, then contact your Santa Rosa, CA, oral surgeons by calling 707-545-4625.