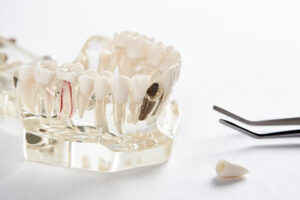 We want to help address tooth loss with a lifelike option, one that not only looks great, but lasts for decades and can even preserve your youthful features. To do so, your Santa Rosa and Rohnert Park, CA, oral surgeons will use Straumann® dental implants, and help address individual missing teeth or even secure a full set of dentures.
The Impact of Tooth Loss
Losing your teeth can be embarrassing, and lead to a poorer quality of life. In addition to feeling uncomfortable in social situations, this could limit the kinds of foods you can enjoy, make clear speech difficult, and even lead to dental misalignment as the remaining teeth drift from position. Over time, as the body suspends the flow of calcium and phosphorus to the jawbone around the missing teeth, the smile loses mass and density and takes on a prematurely older appearance as more teeth become lost and the jawbone weakens. But replacing missing teeth with dental implants could offer a secure and lifelike solution, one that also preserves your smile!
The Straumann® System
We want to provide quality tooth replacement for our patients, which is why we're proud to use the Straumann® System! With this system, we can offer implant dentistry that is affordable, but still uses high-quality materials. The implant portion is a small screw-like device made from titanium, which is biocompatible. We use advanced imaging systems to plan the placement, choosing the right angle and position to support a new tooth. The body accepts it as a new root, so the flow of calcium and phosphorus resumes, and the bone tissue is strengthened. The post then acts like a new root!
Placing New Teeth
Once we insert your new roots, we can move forward with the visible portion of your new teeth. We attach an abutment to the post, and then connect a dental crown, one custom-made for a lifelike appearance and to ensure a durable chewing surface. We provide this for individual missing teeth. For more advanced cases, we could support a bridge, partial, or even a full set of dentures, so you can smile with confidence even if you've suffered from extensive tooth loss. Some options, like All-On-Four, work with weakened jawbones, but we could still rebuild the areas that lost mass and density with grafting or sinus lifts.
If you have any questions about implant dentistry, then contact our team today to learn more.
Ready for a Lifelike Smile That Lasts for Decades?
Our team wants to help you enjoy a complete smile with an advanced replacement option. If you would like to learn more about the technologies and materials we use to secure a new smile, then contact your Santa Rosa, CA, oral surgeons by calling 707-545-4625.