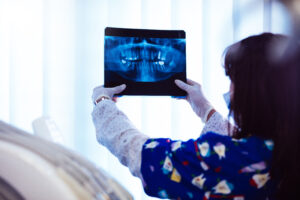 We offer a host or surgical procedures to improve the symmetry, health, function, and even the beauty of your smile. To plan and implement care with precision and accuracy, we employ advanced digital imaging. In today's blog, your Santa Rosa and Rohnert Park, CA, oral surgeons discuss digital x-rays and CBCT imaging.
Digital X-Rays
Instead of traditional dental x-rays, we offer a digital option. We use it to create a panoramic image, capturing your entire smile and mouth in a single x-ray image. We can then look at the upper and lower jaw, sinuses, and the interior of the teeth. We can identify impacted, lost, or malpositioned teeth, assess the strength of the jawbone for those receiving dental implants, and plan surgical procedures like corrective jaw surgery or wisdom tooth extraction. The process is quick and simple. You will place your chin on a rest, and a machine will circle your head and capture the images. No need for uncomfortable bitewings, and this uses a fraction of the radiation that traditional systems do.
CBCT Imaging
Our team can also use Cone Beam Computed Tomography, or CBCT, for a quick and comfortable examination of the jaws, teeth, and face as a whole. These will be high-definition 3D images, which provide a diagnosis with greater precision and accuracy. They also use a minuscule amount of radiation when compared to traditional imaging systems. We can use this to help plan the placement of dental implants, assess the extent of the jawbone, and locate nerve tissues and sinus cavities to ensure treatment without complication.
Common Oral Surgical Procedures
We can use these technologies to plan and guide the placement of dental implants, whether you need one or enough to support a denture. We can repair facial trauma with precision, and guide orthognathic surgery too. These assist in the removal of wisdom teeth, bracketing of impacted teeth, or the completion of a grafting or sinus lift procedures. We want to provide care that is accurate, precise, and offers optimal results for the health and function of your smile. Overseeing treatment with digital imaging systems also helps us plan the most esthetic results as well, so you feel proud of your smile afterward.
If you have any questions about how we use digital x-rays and CBCT technology, or if you would like to schedule a visit to discuss possible treatment options, then contact our team today to learn more.
Do You Need to Schedule a Visit?
Our team can offer a diagnosis with precision and accuracy. If you would like to learn more about how we plan our treatments, then contact your Santa Rosa, CA, oral surgeons by calling 707-545-4625. Oral surgery can allow us to transform your smile, even if you multiple, serious oral health complications.