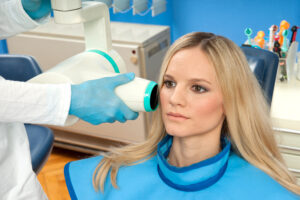 When you need oral surgery, this could mean anything from removing wisdom teeth to rebuilding smiles or treating tooth loss. To plan the treatment with precision and accuracy, we could use advanced digital x-rays. In today's blog, your Santa Rosa and Rohnert Park, CA, oral and maxillofacial surgeons talk about planning treatment.
Digital X-Rays
With the digital option, you don't need to bite down on uncomfortable bite wings. Instead, we can gather panoramic digital x-ray images quickly and comfortably. This system uses a fraction of the radiation, and the images are available instantly, no waiting around. You will rest your chin on a special rest, and the machine will circle your head to gather images of your entire skull, including your teeth, roots, upper and lower jaws, sinus, and more. We can identify areas of concern, including impacted, missing, or malpositioned teeth. The process is safe, quick, and comfortable, and enables our team to make a diagnosis with precision and accuracy. We use this to help plan the placement of dental implants, the extraction of teeth, and other common oral surgical procedures.
iCat Scan
As part of our diagnostic and planning process, we can also create detailed 3D images of your teeth and mouth with cone-beam computed tomography, also known as iCAT. This also uses less radiation than a medical CT scan, and allows us to plan more involved treatments, such as treating facial trauma, rebuilding weakened jawbone structure with grafting, and removing impacted wisdom teeth. We can also plan and guide the placement of dental implants, addressing the gaps in your smile. We can also walk you through the diagnostic process so you better understand the state of your smile, and what to expect from the treatment process.
Treatment Options
We have a variety of treatment options available to help people of all ages in our community. You can come to us if you have missing teeth or other factors, or your general dentist or orthodontist may even refer you to our office. We can address missing teeth with dental implants, remove wisdom teeth or severely damaged ones, and treat minor or severe facial trauma too. We can use grafting and sinus lifts to rebuild the jaw and prepare it for dental implant placement, and even secure dental implants in only one visit. We also offer jaw surgery to improve symmetry, treat oral pathologies, and more. If you have any questions about our office or about the technology we use as part of the diagnostic and planning portion of the visit, then contact our team today.
Schedule a Visit With Us Soon
We would like to help you enjoy a comfortable visit, and receive quality treatment. If you would like to learn more about how we plan and implement oral surgery, then contact your Santa Rosa, CA, oral surgeons by calling 707-545-4625.