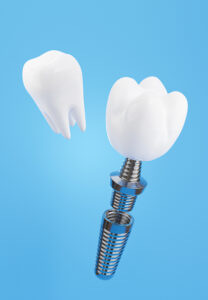 When you have a missing tooth, or even if you have several, we can help with an advanced and lifelike option. Dental implants can correct minor and severe cases of tooth loss, and offer decades of tooth replacement. In today's blog, your Santa Rosa and Rohnert Park, CA, oral surgeons discuss implant dentistry.
The Dental Implant Difference
Other dental prosthetics rely on crowns, clasps, or suction/adhesives to stay in place. Which means as the jaw ridge gradually changes shape with time, they need to be replaced. People could require replacement for their prosthetics every 5 to 10 years on average. However! With dental implants we actually insert a screw-like post made from biocompatible titanium into the jawbone directly. The body will accept it as a natural root and osseointegration will take place. This stimulates the growth of jawbone tissue to prevent the chances to the jaw ridge that necessitate prosthetic replacement. As a result, your new teeth can last for decades, possibly even a lifetime!
Our Dental Prosthetics
What about the prosthetics, the part people see when you smile? These could include bridges, partials, or even a full set of dentures. They will always be custom-made to ensure a natural appearance and a corbel fit, with a balanced bite. The teeth will be crafted from ceramic, so they can absorb daily bite forces and also be color-matched to blend with the smile. We will provide detailed instructions for caring for your new teeth, helping them stay strong and bright for years, or decades, to come.
Rebuilding Smiles
What if your tooth loss has weakened your jawbone and left it unable to support dental implants? While we have options like All-On-Four that require less jawbone structure, we could use jawbone grafting and sinus lifts to ensure there is enough strong tissue to support your new roots. You can then receive dental implant dentures and prosthetics, and enjoy a full smile again. Remember, addressing tooth loss doesn't just improve your appearance, but also allows you to eat and speak without difficulty, and also preserves your smile. If you have any questions about how we treat missing teeth and support a new smile, then contact our team today to learn more. A full smile is possible, even if years have elapsed since you lost your teeth.
Do You Have Questions About Replacing Missing Teeth?
We would like to help you address the gaps in your smile with an advanced replacement option. If you would like to learn more about implant dentistry, then contact your Santa Rosa, CA, oral surgeons by calling 707-545-4625. Don't let tooth loss impact the function, health, and beauty of your smile in a negative way. Instead, talk to our oral surgeons about lifelike and durable replacement options, which can be tailored to your unique smile.