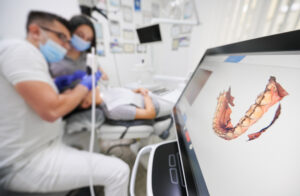 Our team offers a host of oral surgeries to help smiles of all ages in our community, whether you have missing teeth or need treatment for facial trauma. To help plan and implement these procedures with precision and accuracy, we can plan care with digital technology. In today's blog, your Santa Rosa and Rohnert Park, CA, oral surgeons talk about CBCT imaging systems.
When You Need Treatment
When should you see our team? We often have patients referred to us by their general dentist or orthodontist, and we work alongside them when possible to ensure a seamless treatment experience. We can help people with teeth that need extraction, such as severely damaged ones or wisdom teeth. Our team can repair facial trauma and use jaw surgery to restore symmetry and bite balance. We can address tooth loss with implant dentistry too, and can bracket wisdom teeth into place. If tooth loss has caused a breakdown in the jaw, we can rebuild the smile with grafting or even sinus lifts. We also take esthetics into account, as we want you to feel proud of your smile's appearance following treatment.
CBCT Imaging Systems
Regardless of how involved your treatment will be, we need to obtain a clear image of your smile to diagnose the issue and plan treatment with precision and accuracy. Cone Beam Computed Tomography (CBCT) enables our team to plan a variety of oral and maxillofacial surgeries! This technology uses a fraction of the radiation that traditional x-rays use to provide high-definition and accurate images of the face, teeth, roots, and jaw. The technology helps us plan the right positions and angles of dental implants, and can help use avoid nerve tissues and sinus cavities during treatment. We can then discuss what to expect and answer any questions or concerns you may have before we get started, so you can remain informed about your smile and your treatment!
Anesthesia and Sedation
Don't worry, we also take steps to ensure your procedure is a comfortable one too! This means we can not only administer a local anesthesia to the area being treated, but that we can also offer sedation. Nitrous oxide helps people enter a calm state, with effects wearing off as soon as the procedure ends. Oral and IV sedation offer a deep state of calm with little to no memory of the procedure afterward. If you have any questions about how we use digital technology to plan your care, then contact our team today.
Do You Have Questions About Oral Surgery?
We want to help you enjoy a comfortable and effective treatment experience. If you would like to learn more about how we diagnose your smile and plan care, then contact your Santa Rosa, CA, oral surgeons by calling 707-545-4625.