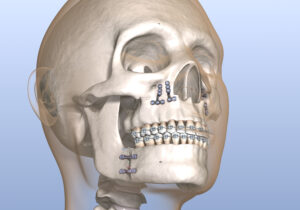 When you have poor bite symmetry, or a smile injured in a major accident, this could impact the appearance and function of the smile. To improve the bite and offer better smile esthetics, we could recommend orthognathic surgery. In today's blog, your Santa Rosa and Rohnert Park, CA, oral surgeons discuss jaw surgery.
When Smiles Need Surgery
If you have issues with the growth and development of your jaw, or sustain a serious injury that damages your smile, this could impact how you eat and chew, even your speech. For some, orthodontic care with braces or aligners could shift the teeth and help reposition the jaw, especially when treatment starts in childhood. But in some cases, surgery will be necessary to address the complications with the jaw and provide relief. Our team has experience with oral surgery and facial trauma, and in fact, our doctors are also members of the Santa Rosa Memorial Hospital Trauma Team.
We can work alongside your orthodontist or general dentist to ensure optimal results and that treatment can continue without complication. We can adjust the position of the jaw, and move them as needed to bring proper balance and symmetry to the smile. This not only provides changes that allow easier eating and speaking, but can also provide a major cosmetic improvement for your facial structure and smile too. Afterward, your orthodontist or dentist could continue care to place final touches on your smile, such as wearing braces or aligners, or appliances like retainers.
Ensuring a Comfortable Experience
We know that patients can feel a bit nervous about undergoing an oral surgery. But like we mentioned above, our team consists of trained oral surgeons and anesthesiologist, so we can offer optimal care and ensure your comfort. In addition to local anesthesia for the areas being treated, we can also discuss dental sedation to help you enter a calm and relaxed state, often with little or no memory of the procedure at all afterward. We have nitrous oxide, oral, and IV sedation, and the option we select will depend on the extent of your treatment, your anxiety levels, as well a medical history, age, and weight. A trained anesthesiologist will be on hand and monitoring you the entire time!
Aftercare
What about afterward? A friend or family member can bring you home, and we will provide detailed aftercare instructions and prescriptions for medication to help facilitate a comfortable and successful healing period. We will also schedule your follow up visits as well.
Do You Have Questions About Our Approach to Oral Surgery?
Our team wants to help improve overall oral health and bite function. If you would like to learn more about improving bite symmetry, then contact your Santa Rosa, CA, oral surgeons by calling 707-545-4625.