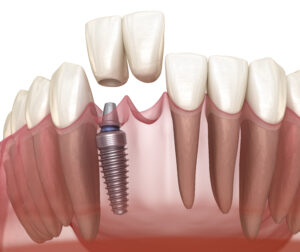 When you have a missing tooth, or if you're going to receive a set of fixed dentures, then you may benefit from dental implants. The placement process involves oral surgery, so we want you to feel calm and comfortable. In today's blog, your Santa Rosa and Rohnert Park, CA, oral surgeons talk about our dental sedation options.
The Dental Implant Placement
Dental implants are a very effective method for replacing missing teeth. Unlike traditional options, these don't require replacement every 5 to 10 years. This is because placement helps stimulate the growth of jawbone structure to reverse the loss of mass and density that follows untreated tooth loss. This also means they're more stable and lifelike than removable dentures or bridge-supported dentures. Placement involves surgically inserting a titanium post on the jawbone, which is biocompatible and act as a new root. We then attach a crown, bridge, or even dentures to offer long lasting tooth replacement, decades in some cases!
Anesthesia and Sedation
Since the process requires oral surgery, our team will strive to make sure you feel calm and comfortable throughout the entire process. We are accredited and licensed and will follow the same strict guidelines that hospital operating rooms do. We can use the latest technology to administer a number of anesthetic options, so even those with severe dental anxiety and special needs can undergo treatment comfortably and effectively. We can do this for patients of all ages, from kids to adults!
Our Options
We could prescribe nitrous oxide, which is administered through a mask over your nose and helps you enter a state of calm, but also ensures you stay conscious. The effects wear off right away and you could return to work or school. Oral sedation, take in pill or liquid form before the procedure, offers a deeper state of clam with little to no memory of the procedure afterward. IV sedation is the deepest form of calming available, and you will be monitored by a trained anesthesiologist the entire time. The option we select will depend on your age, weight, medical history, and our anxiety levels. We will provide aftercare instructions, and you should have a friend or family member on hand to bring you home afterward.
If you have any questions about dental implants, or about how we ensure you're calm and comfortable during treatment, then contact our team today to learn more.
Do You Have Questions About Implant Dentistry?
Our team wants to help you enjoy a comfortable and relaxed experience when you undergo treatment. If you would like to learn more about the process of replacing your missing teeth and ensuring you're comfortable throughout the process, then contact your Santa Rosa, CA, oral surgeons by calling 707-545-4625.