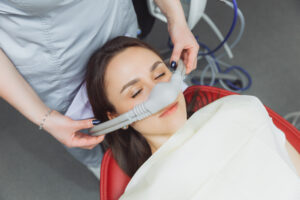 When you undergo oral surgery, whether you need a simple dental extraction or corrective jaw surgery, we want to make sure your experience is a comfortable one. We have licensed team members with sedation experience ready to help patients of all ages! In today's blog, your Santa Rosa and Rohnert Park, CA, oral surgeons talk about dental sedation and anesthesia.
Choosing Your Anesthesia and Sedation
Our team offers oral surgery to help improve the function, health, and beauty of your smile, improving your overall quality of life. For example, we can address tooth loss with lifelike and durable dental implants, and prepare weakened smiles for implants with grafting or sinus lifts. We can offer corrective jaw surgery, and bracket impacted teeth too. General extractions can remove wisdom teeth, or teeth that pose risks for your smile, or to simply prepare your smile for implant dentures. But to keep you comfortable during the procedure, we will use anesthesia to numb the area and sedation to help you enter a calm and relaxed state, with little to no memory of the procedure at all.
Our Expertise
Our doctors and team members have all been trained in the administration of various types of dental anesthesia, ensuring you're comfortable throughout the surgery. We've helped pediatric patients and the elderly, and everyone in between. Not only are we licensed and accredited, but we follow the same strike monitoring and safety standards that are followed in hospital operating rooms. In fact, our doctors often assist in the Santa Rosa Memorial Hospital Trauma Team! Just know that you're in good hands when you or a member of your family see us for treatment.
Three Calming Options
For sedation, we could use nitrous oxide, which involves administering a gas through a mask over the nose. The patient enters a calm state instantly, and the effects wear off as soon as the treatment ends, people can even return to work or school afterward! For a deeper state of clam, we could offer calming in a pill or liquid form. The effects will take time to wear off, so you should have a friend or family member ready to bring you home. The same goes for IV, the deepest form of sedation. The option we choose will depend on your age, weight, medical and dental history, and anxiety levels. If you have any questions, then contact our team today to learn more.
Do You Have Questions About Ensuring a Calm Experience?
We're ready to help you enjoy your time in our office with a number of different calming agents. If you would like to learn more about keeping our patients calm and comfortable, then contact your Santa Rosa, CA, oral surgeons by calling 707-545-4625.