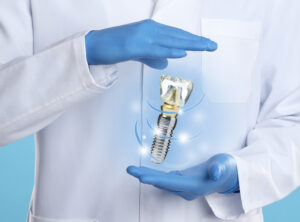 One of the most popular forms of current dental procedures is the placement of a prosthodontic implant with a threaded titanium post. These grow with the help of our body through a unique process known as osseointegration. This special metal thrives when placed within the bone of the jaw, providing an amazingly strong foundation for your new prosthetic tooth replacement.
Another benefit of dental implants is their versatility. This process works to give you an elegant new single replacement that matches your other healthy teeth so that nobody else can even tell that you have had this procedure. In addition to this form of restoration, a new process known as All-On-Four provides a stable foundation for a full set of dentures. At Santa Rosa & Rohnert Park Oral Surgery, we specialize in the placement of implant-supported dentures to bring you a strong bite and a bright future!
The Strength Starts With The Post
The success of a dental implant comes from its special connection to the jaw. Threaded titanium posts interact positively with the human immune system, which is unique to this form of metal. When the area heals from the placement of the post, it forms a tight bond that keeps it in place.
Afterward, a prosthetic tooth is attached to the post and can be used just as you would your natural teeth. This can possibly give you a stronger bite than before, so discover the benefits of this process by contacting us for a consultation. Whether you require a single replacement or a more extensive solution, we are here to help.
The Innovation Of All-On-Four
Implant-supported dentures are a novel way to replace a full set of missing teeth. This includes the placement of a set number of posts for the stability of a prosthodontic denture. Most commonly, it requires four posts per jaw, hence the name All-On-Four.
This sturdy new smile solution can improve upon some of the drawbacks of traditional dentures. For starters, these prosthetics do not cover the roof of the mouth. This can be helpful for patients over time to feel more comfortable and avoid possible fungal or bacterial infection on the palate.
An implant-supported denture solution can also help you to maintain your bone matter. When we lose our teeth, the body reabsorbs material in order to best protect overall wellbeing. This can lead to a change in appearance and weaken the structure of the jaw. Discover how All-On-Four could help you to maintain your oral health after tooth loss!
Whole Mouth Restoration In Santa Rosa, CA
When we lose our teeth, it can be overwhelming to plan for the future. Contact your Santa Rosa, CA, oral surgeons by calling 707-545-4625 to learn more about how this novel procedure can help bring back the functionality and grace to your smile!