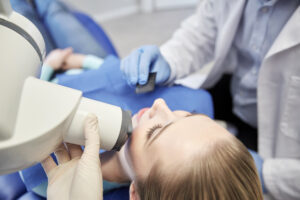 We can extract teeth, replace them with dental implants, treat facial trauma, and even rebuild smiles with grafting and sinus lifts. Regardless of the procedure we're offering, we make sure we plan the process in detail based on digital images we take of your smile. In today's blog, your Santa Rosa and Rohnert Park, CA, oral surgeons talk about digital x-rays.
Traditional vs. Digital X-Rays
With digital x-rays, we take images quickly and comfortably without the use of uncomfortable bite wings. In addition, this doesn't need to be developed in harsh chemicals. This is good for the environment, and also saves you time in the chair. The images will be available instantly chairside, so we can walk you throughout the diagnostic process with us, helping you gain a better understanding of your smile and what treatment will be needed to address the concerns we're treating.
Panoramic
Our team will take panoramic digital; x-rays, which will include your upper and lower jaw, sinus cavities, and tooth roots in the same image. You simply place your chin on a special rest and a machine will encircle your head to gather this detailed x-ray image. This will use a fraction of the radiation that traditional systems require, up to 90% less in some cases. We can identify the position of your impacted or malpositioned teeth, help plan the placement of dental implants, see what grafting and sinus lifts you may need to address weakened jawbones, and to plan the treatment of facial trauma or jaw concerns.
CT Imaging
We also take cone beam computed tomography (ICAT) images. This enables our team to see the structures in your mouth and head, so we can plan treatments with precision and accuracy. Again, this uses less radiation than a traditional medical CT scan. With this and the panoramic images we take, we can plan your procedure with precision and accuracy, restoring optimal health, function, and beauty to your smile again. We will also address any questions or concerns you may have about the procedure we're conducting to improve your oral health.
See Us Soon!
There is still time to see us for treatment! You can arrange a visit before the holidays are here, and before your 2022 general insurance benefits run out. Let's start 2023 on the path to a better smile, and improve oral health.
Do You Have Questions About Our Treatment Options?
We want to help protect your smile and offer improvement with precision and accuracy, which is why we employ advanced technology in the diagnosis and planning process. If you would like to learn more about how we plan and implement oral surgery with digital imaging systems, then contact your Santa Rosa, CA, oral surgeons by calling 707-545-4625.