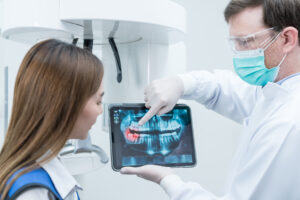 No matter how minor or extension the treatment you're undergoing, we always take time to carefully plan treatment with precision and accuracy. To do so, our team will employ advanced digital imaging. In today's blog, your Santa Rosa and Rohnert Park, CA, oral and maxillofacial surgeons talk about the benefits of digital x-rays.
The Digital X-Ray
Going digital with our x-rays offers a number of benefits for our patients. First, our images will be panoramic and show the entirety of your mouth in one image. To take them, you will set your chin on a special rest and a machine will encircle your head, gathering images quickly and comfortably. These don't need to be developed in harsh chemicals, so this limits your time in the chair and is good for the environment. The images will be available instantly chairside, so we can walk you through the diagnosis, and these incredibly detailed images offer a diagnosis with planning with better precision and accuracy. The device also uses 90% less radiation than traditional x-rays.
iCAT Scan
The cone-beam computer tomography system (iCAT) offers our team detailed 3D images of your oral structures, jaw, and smile. This helps with the diagnostic process, and allows us to plan treatment with precision and accuracy. We can identify nerve tissues and sinus cavities so we can avoid them, and this also uses a fraction of the radiation that a standard x-ray will employ. As with digital x-rays, these images can be easily transferred to a specialist or to your general dentist and orthodontist, so we can work with other professionals and help ensure a seamless transition of care. We're ready to ensure quality results, stunning smiles, and better bite function.
Oral Surgery
Our team can use these to plan the extraction of a wisdom tooth, and to also plan the placement of dental implants to address missing teeth. We can also plan jaw surgery to boost balance and esthetics, and also plan care to address facial trauma. Our team also employs this technology as part of the grafting and sinus lift process. No matter how minor or extensive your oral surgery needs, this can help provide treatment with precision, accuracy, and comfort.
If you have any questions about how we plan and implement treatment for patients of all ages, then let us know! We're ready to help you obtain your best smile possible, and to spare you from further discomfort or improper bite function.
Do You Have Questions About Planning Treatment?
Every smile is different, and we use advanced technology to ensure everyone receives personalized care. If you would like to learn more about how we plan and implement treatment with advanced imaging technology, then contact your Santa Rosa, CA, oral surgeons by calling 707-545-4625.