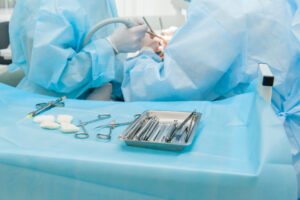 In our last blog, we discussed what you need to know before your surgery begins. But what about the aftermath? In today's blog, your Santa Rosa and Rohnert Park, CA, oral and maxillofacial surgeons talk about what to expect afterwards, and how you can help facilitate a comfortable healing period!
The Immediate Aftermath
In the immediate aftermath of your procedure, you will likely still be groggy from the sedation. A friend or family member will take you home, and help you pick up your prescriptions for pain relievers and medications to help the area heal properly. Minor swelling, discoloration, and discomfort is to be expected, but this passes quickly. For the first 24 hours, we may recommend a cold compress to control swelling, and medication to help you feel comfortable. After 48 hours, you may need to apply a warm and moist heat to your face, such as a wet washcloth. Each procedure will come with specific aftercare instructions, we will go over these with you and send home information too.
Your Recovery
At home, you will need to eat soft foods only and avoid straw use (or prodding the treated area with your tongue). We will recommend limited activity for a few days as your smile heals. Drink plenty of fluids but avoid tobacco products. If you have dentures, you may need to avoid wearing them for a few days. You may need to adjust your use of specific medications too.
Follow-Up Visits
We will schedule a follow up visit to make sure the area is healing as it should, and to possibly remove items like sutures. If your treatment is continuing, then we will move forward with the next steps or you will continue care with your general dentist or orthodontics. If you have an issue that needs attention, such as tooth loss, injury or facial trauma, impacted teeth, or the threat of wisdom teeth, then there is still time to make an appointment with our team. We can help you greet 2023 with a stronger and more attractive smile, and you can use your remaining 2022 dental benefits before they expire at the end of the year.
If you have any questions about preparing for oral surgery, or about the procedures that we offer for patients in our community, then let us know. We can help people of all ages, from pediatric patients to adults and even senior citizens. We look forward to helping you smile with pride again!
Do You Have Questions About Our Oral Surgery Options?
Our team wants to make sure you're ready and informed for your oral surgery and healing period. If you would like to learn more about the recovery process, then contact your Santa Rosa, CA, oral surgeons by calling 707-545-4625.