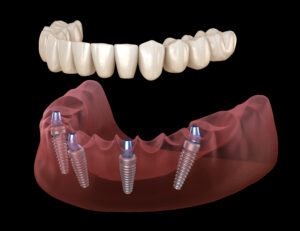 When you suffer from an advanced case of tooth loss, this could impact how you eat, speak, and even lead to a prematurely aged appearance. Weakened jawbone structure could mean you're not ready for traditional dental implants. But your Santa Rosa and Rohnert Park, CA, oral surgeons can offer a full smile again with fixed All-On-Four implant dentures.
The Dangers of Missing Teeth
How do missing teeth impact your oral health? When you've lost most or all of them, this severely limits your ability to eat, leading to nutritional deficits and an inability to enjoy your favorite dishes. You could also have trouble speaking clearly too, and feel embarrassed in social situations, which further impacts your overall quality of life. The body will also stop sending doses of calcium and phosphates to the bone around your lost teeth, which means your jawbone loses mass and density to develop an aged appearance. But we can help prevent complications and preserve your smile with All-On-Four implant dentures.
Weakened Jawbone Structure
Often, we find that people with severe tooth loss, especially if they've put off seeing the dentist, may have lost mass and density in the jaw. As a result, there simply isn't enough tissue to support new teeth without first undergoing other surgical procedures, such as jawbone grafting or sinus lifts. But! With All-On-Four, we can support a complete smile for patients who have lost their teeth and suffered a breakdown in their jawbone structure.
All-On-Four
To begin, we will carefully examine your smile with advanced digital x-ray technology. This enables us to plan the exact position and angle to secure your new dental implants. Patients receive only four per arch, which are smaller and require less structure to stay in place. Once inserted, they help stimulate the growth of jawbone tissue as the body resumes the flow of calcium and phosphorus. In the same visit, we attach abutments to the posts that allow us to connect a complete set of dentures. The prosthetic will be custom-made to not only look natural, but provide a balanced bite and proper chewing function. You then leave our office after one visit with a complete smile!
If you have suffered from advanced tooth loss and worry about negative changes to your facial structure, then don't delay. Talk to our team right away and we will schedule a consultation to see if this is the right choice for you, so you can smile without hesitation once again.
Do You Have Questions About Implant Dentures?
We would like to help you enjoy a full and beautiful smile again. If you would like to learn more about supporting a fixed set of dentures, then contact your Santa Rosa, CA, oral surgeons by calling 707-545-4625.