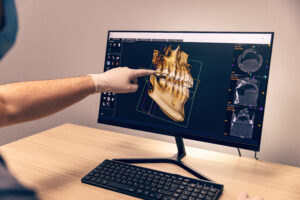 When you need oral surgery, whether that means extracting wisdom teeth or replacing lost teeth with dental implants, we want to plan the process with precision and accuracy. To ensure treatment with precision, we could use digital imaging. In today's blog, your Santa Rosa and Rohnert Park, CA, oral surgeons talk about digital imaging.
When You Need Oral Surgery
Our team provides oral surgery to prevent wisdom tooth impaction, bracket impacted teeth, and address facial injuries, and conduct jaw surgeries. We can extract teeth, insert dental implants, and also even offer jawbone grafting and sinus lifts to prepare weakened smiles for dental implant placement. Our team can work alongside your general dentist and orthodontist, and our team members are also part of the Santa Rosa Memorial Hospital Trauma Team. To plan treatment with precision and ensure optimal results, we begin with digital images taken with special x-rays and CBCT imaging technology. We want to not only improve function and oral health, but also ensure esthetic results too!
Panoramic X-Rays
Digital x-rays offer a number of benefits over the traditional systems. First, they use 90% less radiation. There is also no need to develop the images in harsh chemicals, they're available instantly chairside side, which limits how long you have to be waiting in the chair. The images will be very detailed, so we can make a diagnosis with precision and accuracy. We also take them without the need for uncomfortable bitewings. We capture your entire smile in a single x-ray image, so we can examine the upper and lower jaws, jawbones, sinuses, and the position of your teeth. The process involves resting your chin on a chin rest while a machine encircles your head. The process lasts only a short time, and offers a diagnosis with precision.
CBCT Imaging
Cone Beam Computed Tomography (CBCT) provides a fast and comfortable way to examine your jaws, teeth, and face. The images are detailed and 3D, so we can make a diagnosis and plan treatment with precision and accuracy. They also use a fraction of the radiation that other imaging systems use. Our team can help plan the placement of dental implants, oversee jaw surgery, or remove wisdom teeth, all while avoiding nerve tissues and sinus cavities. If you have any questions about the technology we use to plan and oversee your oral surgeries, or if you would like to schedule a visit for yourself or a member of your family, then contact our team today to learn more.
Do You Have Questions About Treatment?
Our team wants to help you obtain care with precision and accuracy, and that starts with the use of digital imaging technology. If you would like to learn more about planning and implementing oral surgery, then contact your Santa Rosa, CA, oral surgeons by calling 707-545-4625.