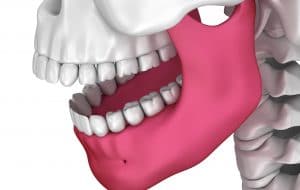 In addition to the more common oral health concerns that many people are used to dealing with, such as tooth decay and gum disease, there are also some conditions that require much more detailed care. For example, when you have an issue that impacts the health and integrity of an underlying oral structure, such as your jawbone, resolving it may call for surgical treatment, such as jawbone grafting or correction. Today, we look at a few examples of problems that jaw surgery may be able to solve, and how the right surgery can help dramatically improve your oral health.
A malformed jawbone
Some oral health concerns aren't as preventable as others, and for some patients, these may include congenital issues with the size, shape, or alignment of their jawbones. A malformed jawbone can have a multitude of consequences for your oral health, bite function, facial appearance, and overall quality of life. It can also occur to varying degrees, and in more severe situations, corrective jaw surgery can have substantial benefits for your oral health. After a comprehensive examination and the use of advanced 3D digital imaging technology, we can help determine the specific concern with your jawbone and design an appropriate surgical treatment to correct it.
A loss of mass and density
Even a jawbone that's healthy and properly formed, and has never experienced an issue with its integrity, can sometimes be faced with a concern that requires surgical treatment. For example, some chronic oral health concerns, such as periodontal disease, can have a direct impact on your jawbone structure by eroding it as they progress. In the case of periodontal disease, this is a significant factor in your increased risks of tooth loss, which can also lead to a loss of stimulation that furthers the erosion of your jawbone structure. Depending on the state of your oral health (such as whether you've lost one or more teeth), jaw surgery and an appropriate treatment plan can help restore your smile, oral health, and jawbone integrity.
A traumatic facial injury
Accidental facial and oral trauma aren't as common as many other oral health concerns, but when they occur, the right oral/maxillofacial surgery can be essential in helping you recover. If the injury has led to a fractured or broken jawbone, for instance, then corrective surgery can help ensure that the bone heals properly and retains your bite's proper alignment. This can help optimize the healing process as well as minimize any long-term negative impacts the injury may otherwise have on your oral health, bite function, and more.
Learn when jaw surgery may be appropriate
Some oral health concerns are complicated, and if yours involves the size, shape, or integrity of your jawbone, then jaw surgery may be an appropriate solution. To learn more, or to schedule a consultation, call Santa Rosa and Rohnert Park Oral Surgery in Santa Rosa, CA, today at 707-545-4625.