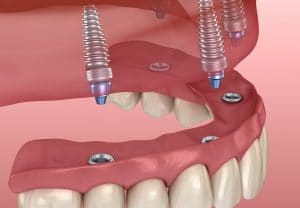 Replacing one or multiple lost teeth with a dental implant-supported restoration is often a simpler procedure than patients expect. With the help of advanced oral health technology, the treatment process is more streamlined and comfortable. Also, with more advanced dental implant planning and treatment processes, we can often create optimal support for dental restorations of all sizes to minimize the extent of treatment required to receive your dental implants. For patients who require complete dentures to rebuild an entire dental ridge of teeth, we can often design All-on-4 dentures that can be successfully supported on just four strategically placed dental implant posts.
The point of dental implant posts
The reason dental implants are often the best solution for replacing lost teeth is because they're made to replace your lost teeth roots. This enables the posts to support your dental restoration with a greater amount of comfort and stability, and also makes their placement more complex than a traditional dental bridge or denture. For them to successfully support your restoration, dental implants must be able to withstand a maximum amount of your bite's pressure. This means the larger the restoration, the greater level of support your dental implants will have to provide.
Your jawbone after extensive tooth loss
The problem that some people face when it comes to receiving dental implants is the fact that the process requires an adequate amount of healthy jawbone structure to support them. The point of a complete denture is to replace all of the teeth on your upper or lower dental ridge, which means you've also lost all of the teeth roots along the ridge. This means the mass and density of your jawbone structure may be diminished by the time you receive dental implants.
Minimizing your treatment with All-on-4
The health and integrity of your jawbone structure is an essential consideration for your dental implant treatment, and the effects of extensive tooth loss can impact it in several ways. To help make it easier for you to fully rebuild your smile with more lifelike dental implants, we can often recommend All-on-4 implant dentures. Consisting of a high-quality, custom-designed and lifelike denture, All-on-4 involves the use of four strategically placed dental implant posts that are able to withstand all of your bite's pressure.
Learn more about All-on-4 implant dentures
Complete denture are designed to replace all of the natural teeth on your dental ridge, but supporting it may require fewer dental implant posts than you might expect. To learn more, or to schedule a consultation, call Santa Rosa and Rohnert Park Oral Surgery in Santa Rosa, CA, today at 707-545-4625.