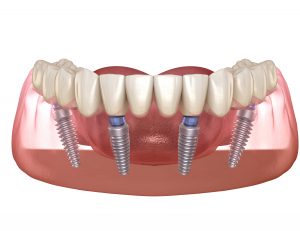 When you lose most of your teeth, an implant denture could help restore function and improve the appearance of your smile. However, often the lost jawbone density complicates this process. To help people obtain a full smile again without relying on grafting and other surgical procedures, your Santa Rosa and Rohnert Park, CA, oral surgeons may suggest the All-On-Four system. In today's blog, we're going to talk about this unique treatment option to address missing teeth.
The Complications of Missing Teeth
We lose density in the jawbone following tooth loss, as the body suspends the flow of nutrients like calcium and phosphorus to the jawbone around the lost teeth. Without these nutrients, the tissue breaks down and loses mass and density, a complication that leads to further tooth loss and an aged appearance. The lack of strength in your bone tissue could also mean your smile is able to support a dental implant, limiting your ability to obtain a replacement for one or more missing teeth.
Dental Implants and Grafting
In order to prepare your smile for dental implants, we may look into sinus lifts or jawbone grafting, two oral surgical procedures designed to rebuild the lost tissue and prepare your smile to receive traditional dental implants. However, we also have an option that could support a full set of dentures with dental implants, even if you've lost strength in your jawbone tissue. To start the process, we will first need to examine your smile carefully and perform a detailed 3D scan, which helps us choose the right option to address the gaps in your smile.
An Alternative with All-On-Four
With All-On-Four, we will administer anesthetic and sedation to help you remain comfortable and calm. Next, we use digital surgical guides and other technology to guide the placement of four dental implants per arch. We then attach a prosthetic to them. As the area heals, you may need to eat soft foods and follow strict aftercare instructions. After a few months, in which the posts bond with the jaw, we will reinforce the teeth. You then enjoy a full smile, one that could enable you to smile with confidence, prevent further loss of mass and density in your bone tissue, and enable you to eat your favorite foods once again. If you have any questions about how we approach replacing missing teeth, then contact our team today.
Have You Lost Your Natural Teeth?
With just four implant post per arch, we can help transform your smile's beauty and function. To learn more about how we address tooth loss, or to schedule a consultation, call Santa Rosa and Rohnert Park Oral Surgery in Santa Rosa, CA, today at 707-545-4625.