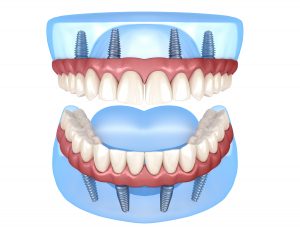 What if you have lost most of your teeth, or possibly all of them? You could develop serious complications and a poorer quality of life. However, what if your Santa Rosa and Rohnert Park, CA, oral surgeons could place a new smile with only four dental implant posts per arch? In today's blog, we're going to talk about the benefits of All-On-Four!
The Dangers of Significant Tooth Loss
When we lose most of our teeth, or all of them, then our quality of life could suffer. For example, we could have trouble eating a variety of foods, which limits our meal options and deprives ourselves of essential nutrients. Difficulty speaking could also develop, impacting your social interactions. Issues with your self-confidence due to missing teeth could also be a source of poorer quality of life.
When we lose our teeth, the body stops sending doses of certain key nutrients to the jawbone around the missing roots. Without these key nutrients, the bone tissue begins to lose mass and density, breaking down with time and leading to an aged appearance and further tooth loss. However, by supporting a denture with dental implants, we can avoid these potential complications.
Creating a New Denture
To start, we need to assess the cause and severity of your tooth loss. If you have periodontitis, we may need to address underlying oral health issues first. We may also need to remove one or more remaining teeth. Next, we take detailed impressions and 3D scans of the area, which we use in the design and fabrication of your new prosthetic. The finished product will be crafted with durable and lifelike materials, enabling them to handle daily bite forces and pressure, and to mimic the beauty of your smile. The new teeth will be set into a base that mimics the appearance of gum tissue.
Support on Four Implants
Instead of require six to eight implants to support your denture, we can do so with only four specially placed options. This stimulates the growth of bone tissue to prevent and aged appearance and implant failure, and we then attach the prosthetic to ensure a complete smile. With just four implants, you have a durable and full smile. If you have any questions about how we address tooth loss and rebuild smiles, then contact our team today to learn more.
Ready for All-On-Four?
We want to make sure you continue to enjoy a smile that functions properly and looks great, which is why we offer implant dentistry. To learn more about our solutions for missing teeth and other oral health concerns, then schedule a consultation by calling Santa Rosa and Rohnert Park Oral Surgery in Santa Rosa, CA, today at 707-545-4625.