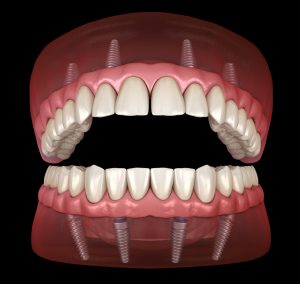 When you lose one tooth, we could insert a single tooth dental implant. But what if you've lost most, or all of your teeth? In addition, what if you've lost jawbone structure due to advanced tooth loss, enough that supporting implant dentures could be difficult? In these situations, your Santa Rosa and Rohnert Park, CA, oral surgeons can create an All-On-Four solution!
What Happens After Tooth Loss?
When you lose a tooth, major issues could arise, including misalignment, cavities, and gum disease and even TMJ disorder and bruxism due to the changes in your bite balance. However, the most serious complication is the loss of mass and density in the jawbone. Since the body will no longer register the presence of a root, it will suspend the flow of key nutrients to that area of the jawbone. Without these nutrients, the tissue breaks down. Over time, this means further tooth loss and an aged appearance. While dental implants can stimulate growth, if you've already lost significant amounts of tissue your smile simply may not be able to support a new root. That's where All-On-Four comes in!
Creating All-On-Four Implants and Dentures
A full set of implant dentures usually rely on between six and eight post per arch to support. If you've lost mass and density, this may not be possible without first undergoing jawbone grafting or sinus lifts. However, with All-On-Four, we place only four unique implants at specially chosen areas of the jaw. They can stay in place even if you've lost structure, and support a full set of dentures. In some cases, the whole procedure can be completed in one visit! From extraction of remaining teeth to insertion of the dental implants, to the attachment of a lifelike prosthetic!
Placement and Maintenance
We start by taking detailed 3D scans of your smile, which we use to plan your treatment. We then remove any remaining teeth and use digital systems to plan and guide the placement of the four implant posts. We then add abutments that let us connect a set of dentures. When you leave, you do so with a complete smile. The implants will still stimulate the growth of bone tissue, so they have the potential to last decades, possibly even a lifetime! If you have any questions about addressing tooth loss, or about our approach to oral surgery and smile improvement, then contact our team today.
Do You Have Any Questions About Implant Dentistry?
We want to offer a tooth loss solution that helps those who have even lost substantial jawbone tissue. To learn more about the process of treating advanced cases of missing teeth with All-On-Four, then schedule a consultation by calling Santa Rosa and Rohnert Park Oral Surgery in Santa Rosa, CA, today at 707-545-4625.