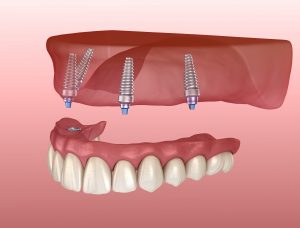 When you have lost most or all of your teeth, you need dentures to regain your ability to eat and speak without complication. However, for some the breakdown of jaw structure following tooth loss limits tooth replacement options. Fortunately, your Santa Rosa and Rohnert Park, CA, oral and maxillofacial surgeons can secure a new smile with the All-On-4® system.
The Loss of Your Natural Teeth
The factors behind your missing teeth could include everything from infection and decay to an accidental or injury. However, usually cases of advanced or total tooth loss are linked to periodontal disease. The advanced stage of the disease, known as periodontitis, could destroy the tissues connecting your teeth and gums, causing them to become lost. Advanced tooth loss then prevents you from eating your favorite foods, denying your body of essential nutrients. In addition, you could have trouble eating and speaking clearly. But the breakdown of your jawbone structure could be the most damaging complication!
The Complications for Traditional Dental Implants
The body will no longer send calcium and phosphorus to the area of your jawbone around a missing tooth. After these nutrients are diverted, the bone tissue begins to lose mass and density, breaking down with time. People develop an aged appearance and a weakened jawbone, which means there may not be enough tissue to support dental implant dentures without first undergoing ridge augmentation and sinus lift procedures. But for some, we may have an option that lets them avoid surgical procedures to rebuild their jawbone.
The All-On-4® Process
All-On-4® uses only four dental implant posts, while traditional options use between six and eight per arch. These are smaller and designed to require less bone structure to support them. We use digital technology and surgical guides to plan and administer the placement process with accuracy and precision. We choose areas to allow these four posts to support a denture. The body accepts the post as natural roots, which in turn stimulates the growth of bone tissue to preserve your new teeth. For some, they could last decades or possibly even an entire lifetime!
If you have missing teeth, let us know so we can offer a solution that protects and preserves your jaw, and allows you to smile with confidence again. If you have any questions about the All-On-4® process, then contact our team today. We would love the opportunity to offer you a stronger and more attractive smile again!
Do You Have Questions About Secure Dentures?
We would like to help you enjoy a complete and functional smile once again. To learn more about how we secure a fixed set of dentures, then schedule a consultation by calling Santa Rosa and Rohnert Park Oral Surgery in Santa Rosa, CA, today at 707-545-4625.