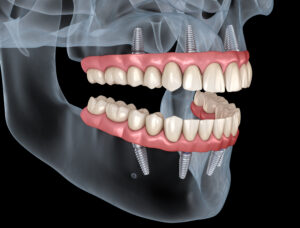 Typically, the placement of dental implants and the attachment of a denture could take months, as time is needed for the placement area to heal. But! What if we could place and complete them in one visit? In today's blog, your Santa Rosa and Rohnert Park, CA, oral surgeons talk about All-On-Four.
The Need to Replace Missing Teeth
When you have lost your natural teeth, this could lead to major complications in your daily life. For one, you could feel uncomfortable with your appearance, and this could complicate your social interactions. In addition, this could make clear speech difficult, and also limit the kinds of foods you can eat. But the major complication comes from the body suspending the flow of calcium and phosphorus to the jawbone following tooth loss. This causes the jaw to lose mass and density. As it breaks down, this leads to an aged appearance and could mean the total loss of your natural teeth. But with dental implants, we can prevent this from happening and protect your youthful features, all in one visit.
Placement and Restoration
The process begins with detailed digital x-rays and CBCT imaging, which allow us to choose the best areas for placement. We then guide the implants into place with digital technology, avoiding sinus cavities and nerve tissues, and choosing the angles and positions that best support a new smile. Once they're in place, abutments can be added that extend above the gum line. Next, the denture is attached. This is custom-made to ensure a more natural appearance, and also a comfortable fit. The implants ensure your new prosthetic is fixed in place, never slipping when you eat or speak, and that it can last for decades to come, possibly even a lifetime! No need to remove your dentures for cleaning or soaking either.
The All-On-Four Option
All-On-Four uses only four posts per arch, set at an angle that doesn't require as much jawbone structure to support them as a traditional option would. This means no need for grafting and sinus lifts if you've lost jawbone strength following tooth loss. This is also a more economical option, and we can attach the abutments and the denture in the same visit, so you leave our office with a full and beautiful smile. If you have any questions about the All-On-Four option, or about addressing the factors behind your missing teeth, then contact our team today to learn more.
Ready for a Whole New Smile?
Our team wants to help you enjoy a complete smile again in a single visit. If you would like to learn more about addressing missing teeth with a prosthetic, then contact your Santa Rosa, CA, oral surgeons by calling 707-545-4625.