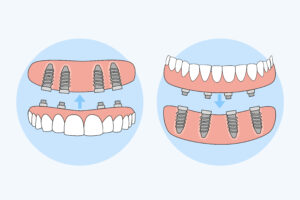 When you have advanced tooth loss, you need dentures. While effective, removable dentures do have their drawbacks, and advanced tooth loss could mean your jaw is too weak for traditional implant dentures. But your Santa Rosa and Rohnert Park, CA, oral surgeons could transform smiles with All-On-Four, often in one appointment!
The Impact of Near Total Tooth Loss
When you lose most of your teeth, or if you have no natural teeth remaining, this could complicate how you eat. Your limited meal options could deny your body access to essential nutrients. This could also mean trouble speaking clearly, and embarrassment regarding your appearance, all of which impact your social interactions and quality of life. As the jawbone loses mass and density due to the missing tooth roots, this could mean an older appearance too! To prevent these complications, you need to have a set of dentures, even better, they should be secured with dental implants.
Inserting the Four Posts
With All-On-Four, we use only four specially placed posts. These are smaller and designed to work with weakened jawbone structure. Which means you can receive implant dentures without first undergoing jawbone grafting or sinus lift procedures. These will be set at a specific angle and position to support a set of dentures, and also stimulate the growth of jawbone structure. This prevents the aged appearance, and supports your new teeth for decades to come, possibly a lifetime. We guide them into place with advanced technology, and their biocompatible structure means the body accepts them as natural roots.
Securing a Prosthetic
Once the posts are in place, we will connect an abutment to them. We can then connect the prosthetic. The denture will be custom-made and crafted with lifelike materials, such as ceramic, to ensure your new teeth look bright and blend with your smile seamlessly. In one visit, you can leave with a complete smile, one that looks great and allows you to eat your favorite foods again and smile with confidence, you can also speak with ease again!
If you have any questions about how we address severe cases of tooth loss and rebuild smiles, then contact our team today to learn more. We can help address minor or major tooth loss with implant dentistry, so you can enjoy your best possible smile. You can start the process now, and enjoy a smile that makes you feel good and protects your oral health too.
Do You Have Questions About Implant Prosthetics?
Our team is eager to help correct missing teeth and rebuild your smile with durable and long-lasting prosthetics. If you would like to learn more about addressing advanced cases of tooth loss, then contact your Santa Rosa, CA, oral surgeons by calling 707-545-4625.