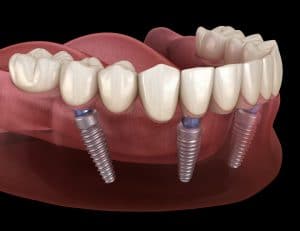 For patients who experience complete tooth loss on their upper or lower dental ridge, a full, custom-designed implant denture is often the a lifeline to restoring their bite function, their smile's appearance, and a large part of their overall quality of life. Yet, the extent of their tooth loss can sometimes make receiving dental implants an equally extensive process, especially in the process of rebuilding the entire dental ridge. Fortunately, many patients can benefit from the support of dental implants and the full restoration of their dental ridge, all with more minimally invasive treatment than they may expect. With All-on-4 implant dentures, we may be able to support your complete denture on just four strategically placed dental implant posts.
The consequences of extensive tooth loss
The most important benefits of dental implants stem from their ability to resolve most of the more profound consequences of tooth loss. Particularly, the loss of your natural teeth roots can have a detrimental impact on the health and integrity of your dental ridge, causing the bone structure lose stimulation and, as a result, mass and density. Dental implants can help slow or stop this process of bone loss; yet, for patients who experience complete tooth loss, the effects of jawbone erosion may make it difficult to receive a complete row of dental implant posts.
A look at how dental implants offer support
For dental implants to successfully support a denture or other dental restoration, they must be placed within ample jawbone structure to fuse to and stabilize the implant posts. Once they do, the implants create a more realistic, root-like support system for your denture, anchoring your replacement teeth to your dental ridge the way natural roots anchor your healthy teeth. This is especially important to the function and comfort of your denture. In addition to ensuring that it doesn't shift along your dental ridge, implants also allow you to bite and chew a greater variety of foods without fear of damaging or displacing your denture.
The benefits of All-on-4 implant dentures
Given the important advantages of dental implants, they can be an essential part of restoring your smile after tooth loss. With All-on-4 implant dentures, patients with extensive tooth loss can often receive dental implants even if they've already experienced the consequences of tooth loss, such as a loss of jawbone mass and density. In extreme cases, jawbone grafting may be required to prepare the dental ridge to receive several dental implants, though All-on-4 can often help minimize or eliminate this need.
Learn if you can benefit from an All-on-4 denture
With a custom-made, All-on-4 implant denture, you can benefit from dental implants as well as more minimally invasive treatment. To learn more, or to schedule a consultation, call Santa Rosa and Rohnert Park Oral Surgery in Santa Rosa, CA, today at 707-545-4625.