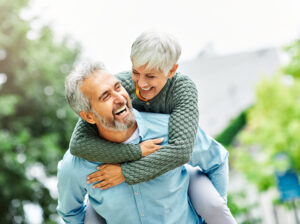 When you have missing teeth, whether this includes one lost tooth or several, then you need to seek prosthetic dentistry. We can use dental implants to address the loss of one or more teeth, so you can enjoy optimal oral health and bite function. They also provide a lifelike appearance too. In today's blog, your Santa Rosa and Rohnert Park, CA, oral surgeons talk about how dental implants provide a new smile.
The Impact of Tooth Loss
Missing teeth leave behind gaps in your smile that can cause you to feel embarrassed in social situations, and impact how clearly you speak, which leads to poor quality of life. But behind these esthetic impacts, this could harm your overall oral health too. First, more severe tooth loss limits the kinds of foods you can eat, depriving you of essential nutrients and leaving you with a diet of only soft foods. The risk of misalignment increases, and the changes to your bite's balance could strain the jaw joints to cause chronic teeth grinding and TMJ disorder.
But the body will also stop the flow of calcium and phosphates to the jaw surrounding these lost roots. As a result, the bone could lose mass and density to cause further tooth loss and a prematurely aged appearance too! But with dental implants, we can fill these gaps and not only that, also stop the loss of mass and density in the jawbone.
Your New Teeth
Each dental implant consists of three major components, each made using advanced and durable Straumann materials. The new root is a post made from biocompatible titanium and inserted via oral surgery directly into the jawbone. There, it bonds with the jawbone through a process known as osseointegration. This strengthens the jaw to prevent the breakdown of mass and density, and to ensure your new teeth can last for decades as opposed to the 5 to 10 years traditional bridges and dentures last. Next is the abutment, which we attach to the post. This extends above the gum line so we can attach the crown. The dental crown is the physical eruption of your new tooth, one that looks natural and provides a durable chewing surface. But if you have multiple missing teeth, we could use several posts and abutments to support bridges and even full or partial dentures.
Anesthetic
We know people may feel nervous about the oral surgery necessary to secure your new dental implants. But we want to ensure your procedure is a comfortable one. We administer a local anesthetic to the area where the new posts will be attached. We also offer dental sedation, which helps you enter a calm and relaxed state, with little to no memory of the procedure afterward. We have three sedation options available, and the one we choose is based on your age, weight, anxiety levels, and medical history. Our team members are also part of the Santa Rosa Memorial Hospital's Trauma Team, so they have experience with ensuring a comfortable and effective surgery.
Dental Extraction
We'll carefully examine your smile and assess the state of your remaining teeth. If you've lost most of your teeth, then we may need to extract the last few teeth to make room for a set of dental implant dentures. The extraction process is a quick and comfortable one, usually taking as little as 30 minutes. We will use ridge preservation to help prevent the breakdown of structure in the jaw until we can insert your new teeth, so your smile is ready for tooth replacement.
All-On-Four
With All-On-Four, our team has the ability to support a full set of dentures with four dental implants in one visit. We insert the new posts and then attach the abutments and custom denture in the same sitting, so you leave with a complete smile. Since these posts are smaller and require less structure for support, we can often help smiles that would otherwise requiring bone grafting or sinus lifts prior to implant placement. We can help you obtain a full smile that looks natural and functions like regular teeth too. No slippage, and no need to remove them for cleaning or soaking, they're fixed in place.
If you have any questions about replacing missing teeth with dental implants, then contact our team today to learn more.
Do You Have Questions About Replacing Your Missing Teeth?
With implant dentistry, our team can address missing teeth with a long-lasting and durable option. If you would like to learn more about treating your lost teeth, then contact your Santa Rosa, CA, oral surgeons by calling 707-545-4625.