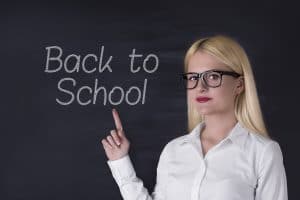 Are you a college student, ready to head back to the classroom for a brand new year but you know you require some help for your smile first? Perhaps you have college-age children who are getting ready to begin a bright, shiny, new semester and you have questions regarding what to do about certain aspects of their smiles. Why not take our Rohnert Park, CA oral surgeons' practice up on an offer to go through a quick review for grownups? As a result, whether you're the student or the parent, the grownup smile in need will have the oral surgery care it requires and will be ready for some serious class time!
For Wisdom Teeth Concerns
We talk about this a lot because we know it's something that can cause some confusion for patients. If you're heading back to the college classroom and you've never had your wisdom teeth removed, come on in. Rather than spending the entire year worrying and wondering about these teeth, let us guide you toward answers. You might find out that they're perfectly fine. Or, your oral surgeon may suggest removal! The same is true if you're a parent getting your son or daughter ready to head off into the world. To keep everyone feeling relaxed and confident, simply schedule a consultation. We can then map out a care plan for removal that will work with the schedules involved.
For Missing Teeth Needs
Whether you are missing a permanent tooth that just failed to develop or if you've dealt with the loss of a tooth, one thing no college student wants is to be the only person in the classroom with missing teeth! This is understandable. Fortunately, we are here to help. While the experience may take several months, you will soon be just another attending student with a smile that's complete, thanks to dental implants. Ready to talk with your oral surgeon about how implants work for a healthy smile that has all of its teeth? Let us know.
For Everything Else!
Anything you or your child needs in order to get ready for back to school is something our oral surgeons will be more than happy to talk with you about sooner than later! Summer, as you know, is wrapping up. So, come in soon for a visit. Remember, we offer comprehensive oral surgery care for everything from dental implant options to extractions to addressing facial trauma and oral pathology to replacing missing teeth!
Schedule Your End-Of-Summer Visit Now!
See your oral surgeon soon to learn more about how to best prepare your smile for a new school year. Schedule the time you need in Rohnert Park, CA by calling Santa Rosa and Rohnert Park Oral Surgery at 707-584-1630 to schedule your visit today.