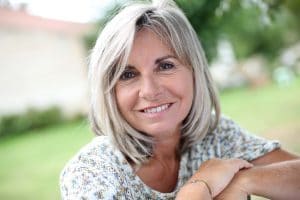 There are circumstances where the best decision for a person's overall oral health involves the extraction of their tooth. While you can be aware of the benefits to this extraction, the idea of showing off an incomplete smile may make you uncomfortable. Fortunately, our California oral surgery practice is prepared to take on an extraction and replacement of an unhealthy tooth! In some cases, we can actually move forward with plans to restore your smile by placing a dental implant after removing a tooth. Once the implant is set and properly healed, you can receive a lifelike restoration that makes biting, chewing, and smiling feel comfortable.
We Can Help You Restore Your Smile After A Major Oral Health Issue
Problems with severe dental injuries or advanced cavities sometimes make it necessary to extract teeth that simply cannot be restored. While this is certainly a problem we hope to avoid, performing it at the right time can put a stop to discomfort and help you regain a healthy, happy smile once again. While planning a safe and careful extraction of your tooth, we can discuss the placement of a dental implant in the emptied space to move forward with prosthetic dental work.
Placing A Dental Implant To Hold Your Restoration
A dental implant post is not the prosthetic tooth itself – what the implant does is mimic the function of a natural tooth root. It will occupy the space where your lost tooth's root once resided, and your jawbone will actually fuse with it in a process known as osseointegration. When the implant is restored, your prosthetic tooth can appear and feel natural. Its presence helps you maintain your oral health because it can stimulate the jawbone, ensuring nutrients are still being delivered to it. Your neighboring teeth enjoy benefits from the implant's presence, too, as their roots enjoy more stability.
Ignoring Serious Smile Problems Can Lead To Unwelcome Complications
When a tooth is in serious condition, extracting it can protect you against ongoing discomfort, and potential oral health complications. If your tooth is badly injured or decayed, bacteria can eventually move through its root to create new concerns, while also causing persistent discomfort. The sooner you move forward with plans to have the tooth extracted, the sooner you can put a stop to these potential risks.
We Can Arrange Your Tooth Extraction And Smile Restoration!
At our practice, we can make sure your tooth is properly extracted, then arrange to place a dental implant in order to support your lifelike prosthetic. While the idea of losing a tooth can be scary, you can feel more comfortable when you are assured of proper care, and the restoration of your full smile! You can schedule a consultation by calling our Santa Rosa practice at 707-545-4625, or by contacting our Rohnert Park office at 707-584-1630.