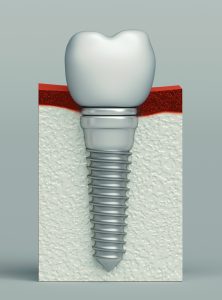 When you suffer from tooth loss, this resulting changes to your smile could mean issues with facial structure and even further tooth loss. In today's blog, your Santa Rosa and Rohnert Park, CA, oral surgeons explain how our dental implants can help replace missing teeth with a biocompatible titanium post and lifelike restorations, so you enjoy a complete smile again, with results that last a lifetime.
The Possible Issues with Missing Teeth
We urge people with even minor tooth loss to seek treatment, as losing a tooth could lead to a cascade of issues that impact everything from how you eat and speak, to the appearance of your overall facial structure. You see, the body will no longer send regular doses of calcium and phosphorus to the jawbone around the missing roots. Without these nutrients, the bone tissue breaks down, a complication linked to further missing teeth and an aged appearance. People with tooth loss also experience an increased risk of TMD, bruxism (teeth grinding), and issues with social interactions.
Long-Lasting Tooth Replacement
Don't let tooth loss cause problems for your quality of life, instead seek treatment from our team members. To begin, we will use advanced digital technology to obtain clear and detailed images of your smile, above and beneath the gums. We then assess the factors behind your missing teeth, and the strength of your jawbone. If time has passed since you lost your teeth, you could have weakened bone structure that requires ridge augmentation and sinus lifts to rebuild or specialized tooth replacement, such as TreFoil or All-On-Four to address the gaps with minimal implants. Since these will be made from biocompatible titanium, they will bond with the jawbone and stimulates the growth of tissue, enabling them to last for decades or even a lifetime!
Planning and Placing Your Dental Implants
After we plan the process, when you arrive for placement, we will administer dental sedation to ensure you remain calm and comfortable throughout the process, with no memory of the procedure itself. Digital technology will be employed to guide the implants into place, and we will insert them into the jawbone. They will then bond with the bone tissue. For those receiving implant dentures, we could often attach a prosthetic in the same visit. For others, we may need to wait a bit for the area to heal before we attach a crown or prosthetic to complete the visible part of your new smile.
Have You Lost One or More Natural Teeth?
Our team would like to address missing teeth and help you enjoy your best possible smile. To learn more about how we use digital technology and biocompatible materials to address tooth loss, then schedule a consultation by calling Santa Rosa and Rohnert Park Oral Surgery in Santa Rosa, CA, today at 707-545-4625.