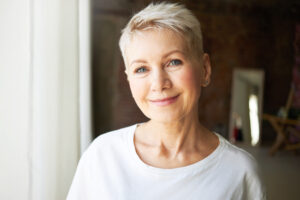 After the loss of your teeth, the changes to your smile could weaken the jawbone and complicate your ability to replace missing teeth with dental implants. However! Your Santa Rosa and Rohnert Park, CA, oral surgeons can help make your smile ready with jawbone grafting and sinus lifts, which helps rebuild your smile and strengthen it.
The Loss of Mass and Density After Tooth Loss
A lot of things happen to our smile when we lose our teeth. Trouble eating and speaking is common, as is embarrassment at the negative changes to our smile's appearance. But the body is also suspending and diverting the flow of calcium and phosphorus away from the jaw around your missing teeth. Without these regular nutrient doses, the bone tissue begins to break down. The loss of mass and density then means further tooth loss, as well as a prematurely aged appearance. In addition, as this worsens with time, you could eventually have jawbone tissues too weak to support dental implants, limiting your tooth replacement options without first undergoing grafting or sinus lifts.
Bone Grafting
Bone grafting is used to help restore the tissues that have become elastin the lower arch. We will take tissues from the back of your jaw or from your hip, or we could use donor or synthetic sources too. Our team will plan the treatment with precision and accuracy, gathering detailed x-rays and intraoral camera images with digital imaging technology. We can then plan the process to avoid nerve tissues and sinus cavities, and rebuild the smile with better accuracy. We numb the smile and also administer dental sedation so you enter a calm and relaxed state with no memory of the procedure. When the area heals, we can move forward with the insertion of one or more dental implants.
Sinus Lifts
For the upper jaw, we could actually use the procedure to lift the sinus floor. Doing so then exposes new tissues to support the placement of one or more dental implants. Once in place, the dental implants actually stimulate the growth of new tissues around the posts we've inserted. This allows them to act as new roots, and ensures your implants could last for decades to come, or possibly even a lifetime. We then custom-make the crowns or prosthetics (bridges, partials, dentures) that we use to address the missing teeth. We want you to feel proud to show off your new smile to the world!
Talk To Your Santa Rosa, CA Dental Practice About Jaw Surgery
We would like to help transform your smile with oral surgery. If you want to find out more about how we rebuild smiles and make them ready for dental implants, than contact your Santa Rosa, CA, oral surgeons by calling 707-545-4625.