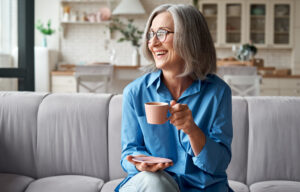 If you have experienced the challenges and discomfort associated with traditional dentures, you may be eager to explore a more permanent dental solution. All-on-4 implant dentures offer a life-changing option for individuals who desire a confident smile and improved oral functionality. In today's blog, your Santa Rosa and Rohnert Park, CA, oral surgeons dive into the process of this system and discuss the numerous benefits associated with the All-on-4 implant denture.
Understanding the Process
If the thought of oral surgery overwhelms you, we take the time to educate and walk you through a plan that suits you best. Before embarking on the All-on-4 journey, your dentist will conduct a thorough examination to assess your oral health, bone density, and overall suitability for the procedure. This evaluation helps determine if you are an ideal candidate for all-on-4 implant dentures. A personalized treatment plan will be created to address your specific needs and desired outcomes.
Surgical Phase
If this procedure suits you, four dental implants will be strategically placed in your jawbone. These implants serve as anchors for the replacement arch of teeth. The placement process is quite simple, often requiring numbing of the surgical site or conscious sedation to ensure your comfort. Sometimes implant placement can occur on the same day of tooth extractions.
Following the implant placement, a temporary bridge will be attached to the implants, so that you can still smile and function with confidence.
Once the titanium implants have fully fused with the jawbone (usually after a few months), we will replace the temporary bridge with a customized, permanent arch of teeth. This restoration is carefully crafted to match your natural teeth' shape, size, and color, providing you with a natural-looking and confident smile.
Experience The Benefits
These strong restorations provide unparalleled stability and functionality when compared to traditional dentures. The implants act as secure anchors, eliminating concerns of slippage, discomfort, or difficulty while eating, speaking, or laughing.
Most importantly, the placement of dental implants stimulates the jawbone, preventing bone loss that commonly occurs with traditional dentures. This helps maintain your facial structure and youthful appearance.
Durability and Care
When properly cared for, All-on-4 implant dentures can last a lifetime, providing you with long-term stability and confidence. Regular dental visits and good oral hygiene practices are essential for maintaining the health and longevity of your implant dentures.
Schedule A Consultation Today
Through careful evaluation, treatment planning, and the precise placement of dental implants, this remarkable procedure can transform your life by providing you with a secure, natural-looking, and long-lasting smile. If you would like to learn more about these restorations, then contact your Santa Rosa, CA, oral surgeons by calling (707)545-4625.