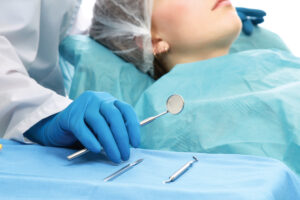 We use oral surgery to help people of all ages, addressing issues too severe for general dentistry or orthodontics to address. But what should you expect from oral surgery? In today's blog, your Santa Rosa and Rohnert Park, CA, oral and maxillofacial surgeons talk about how we plan and proceed with oral surgery.
Examining Your Smile
First, we need to assess the state of your smile in order to plan your treatment with precision and accuracy. To do so, we will use CBCT technology to obtain detailed digital images and x-rays of your smile, so we can understand the factors behind your oral health concerns, and make note of sensitive structures, sinus cavities, and more. Treatment could include replacing missing teeth with dental implants, performing extractions, removing wisdom teeth, treating facial trauma, or rebuilding a smile with jawbone grafting or sinus lifts.
Preparing for the Procedure
When you arrive for treatment at our surgical office, be sure you wear loose and comfortable clothing. We will have provided detailed pre-surgical instructions for your, such as medication, fasting, or making sure someone is available to bring you home afterward. For example, if you're undergoing general anesthesia, you should avoid food after midnight the night before. If you're receiving oral sedation, you may need to take a pill or liquid a few hours before you arrive. You may hear sounds or feel gentle vibrations, but you will remain comfortable through the process!
The Treatment Process
The procedure could take as little as 30 minutes, or may last a bit longer. That depends on the complexity of your procedure. We will cover all of this during your consultation, there will be no surprises. We know you may have friends or family members waiting on you, which is why we have free coffee, water, and Wi-Fi for them as they wait. Once the procedure ends, we will provide detailed aftercare instructions to your companion, including prescriptions for any necessary medications. A follow up visit will be scheduled to assess how well you're healing, and to remove any sutures as necessary or to move onto the next stage of your treatment. If you have any questions about this process, or if you would like to schedule a consultation, then contact our team today to learn more.
Seeing us now means you can put your remaining dental benefits to use or use your health savings funds before they expire on December 31st. We can also complete care before your schedule becomes a lot busier due to the holidays.
Do You Have Questions About Oral Surgery?
Our team wants to help you enjoy better oral health with our surgical procedures. To learn more about our approach to oral surgery for patients of all ages, then schedule a consultation by calling Santa Rosa and Rohnert Park Oral Surgery in Santa Rosa, CA, today at 707-545-4625.