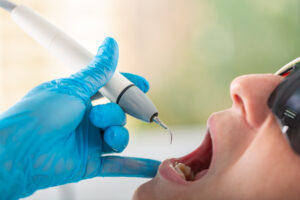 Maintaining a healthy mouth requires more than just brushing and flossing regularly. You also need to visit your dentist or oral surgeon for thorough examinations, so they can detect any potential issues that may be looming. The study of irregularities and their subsequent treatment is known as oral pathology. In today's blog, your Santa Rosa and Rohnert Park, CA, oral surgeons discuss this medical field and what the process is if they do find something amiss — like oral cancer.
What Is Oral Pathology?
It is the study of the nature, identification, and management of diseases that affect the interior of your mouth. There are a wide array of issues that can affect this area, and many of them share symptoms. These include abrasions, lesions, persistent sores, ulcers, bleeding, discolored patches of oral tissue, and changes in bone structure. Oral cancer is another area within this field. Overall, oral pathology assesses and treats abnormalities found within your mouth. 
Identifying Oral Cancer
As noted above, oral cancer is a major area of study and treatment within the field of oral pathology. When you come into your office, we take a comprehensive look at your mouth to see if there are any signs of this disease. We utilize advanced technology like digital X-rays and 3D scanners to gather a complete picture of your mouth. If we do find any of the common symptoms of oral cancer, we will then suggest a tissue biopsy to find out if cancer is present in your oral cavity. This consists of us taking a small tissue sample from your mouth and sending it to a lab where a specialist looks to see if there are any diseases present. If it comes back negative, we will continue to stay vigilant in looking for potential developments in the future. If it comes back positive, we will discuss the best course of action to treat the disease in a comprehensive, thorough manner.
It Can Affect Anyone
Oral cancer can be found in anyone, regardless of age or health. While certain behaviors, like consuming tobacco or excessive drinking, can influence its presence, healthy people are still at risk. This is why we and most other doctors suggest regular screenings to stay on top of potential developments. It is important to remain vigilant and aware of your mouth's condition to help catch potential diseases from forming. As oral health care professionals, we take the condition of your mouth very seriously, so we are here to help you at every turn.
Contact Us to Learn More About Oral Pathology
We know the thought of oral cancer and other diseases is scary to engage with, but it is essential to stay vigilant about the health of your mouth. This is exactly why we suggest you regularly visit your dentist or oral surgeon to stay abreast of any developments. To schedule an appointment, please call Santa Rosa and Rohnert Park Oral Surgery in Santa Rosa, CA, today at 707-545-4625.