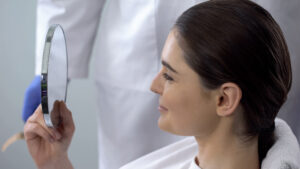 Facial trauma can be minor or very complex, and can develop due to an injury or accident. They could mean tooth loss, damaged jaws, and more. To correct these issues and restore bite balance, and also improve facial esthetics, your Santa Rosa and Rohnert Park, CA, oral and maxillofacial surgeons can offer treatment.
Assessing Your Facial Trauma
This could happen due to an injury, such as a car accident, and could include broken jaws, damaged or missing teeth, or even facial lacerations. We're had experience addressing situations like these, not only in our office but in hospital settings too. We will begin with a thorough exam, once that includes CBCT technology and panoramic digital x-rays, so we can see your smile as a whole, as well as your jaw and oral structures. This allows us to plan the treatment with precision and accuracy, creating a plan to improve the function, beauty, and overall health of your smile and face.
Dental Sedation
We also strive to keep our patients calm and comfortable during their treatments, which is why in addition to local anesthetic, we have dental sedation. We have nitrous oxide, oral sedation, and IV, and will choose one that best fits your situation and anxiety levels. These help you enter a calm and relaxed state, with little to no memory of the procedure afterward. The option we choose will be based on your anxiety levels, height and weight, medical history, and other factors. You should feel relaxed and comfortable each time you see us!
Repairing Smiles
We often start by repositioning the teeth and replacing missing ones with dental implants. This rebuilds the framework of the smile, and allows us to properly correct the facial bones and reset them. This improves esthetics, and treats lacerations and fractures. As the area heals, this restores bite balance and corrects facial esthetics. We've had experience with both minor and cosmetic cases, and can help transform your smile.
If you have any questions about how we create highly esthetic results and improve the function and health of your smile, then contact our team today. We're here to help, and will work alongside your general dentist and orthodontist as needed. We look forward to helping you obtain your best possible smile again!
We can Improve Smile Function and Beauty
We would like to help correct the issues brought on by accidents and injuries. If you would like to learn more about how we restore function, health, and beauty to your smile, then contact your Santa Rosa, CA, oral surgeons by calling 707-545-4625. We can replace missing teeth, repair fractures or broken facial bones, and reposition your smile. Don't live with the effects of your injury or accident, talk to our team, even if time has elapsed since your injury.