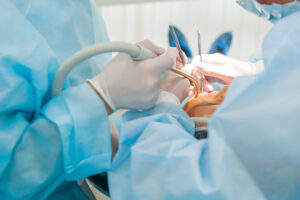 When your jaw sustains a serious injury, or natural factors lead to imbalance and strain, this could harm your oral health and complicate your family life. To bring relief and improve your smile, you could benefit from orthognathic surgery. In today's blog, your Santa Rosa and Rohnert Park, CA, oral surgeons discuss jaw surgery.
When You Need Jaw Surgery
When your jaw sustains a serious injury, or if problems with the balance and position occur naturally, this could lead to serious complications for your smile. You could be more likely to develop painful disorders like TMD or even bruxism (chronic teeth grinding). This could impact how you open and close your mouth, and could lead to problems with the beauty of your smile and facial structure too. To avoid these concerns, we could use jaw surgery to rebuild your smile.
Anesthesia and Sedation
We know that people could feel a little anxiety about undergoing oral surgery. But don't worry, we take measures to ensure you remain calm and comfortable throughout the process. We will administer a local numbing agent to the areas undergoing treatment. We also offer dental sedation. We have nitrous oxide, oral, and IV, sedation, which help you enter a calm and relaxed state. We choose the option based on the beauty of your treatment, as well as age, weight, medical history, and anxiety levels. You may be a little groggy after, so a friend or family member can take you home, along with instructions for aftercare and any prescriptions. You will likely have little to no memory of the jaw surgery at all, and a trained anesthesiologist will be on hand to monitor you throughout the treatment.
Surgery and What Happens Next
Our team will use surgery to alter the position and symmetry of the jaw joints. If you have missing teeth, we may place dental implants to help with the process. The entire procedure is planned in detail with digital imaging technology, ensuring optimal results. In addition to improved function and health, this can offer better facial esthetics too. People are often surprised at the positive changes in their facial beauty! An orthodontist may use braces or appliances to complete the fine touches to your smile afterward. Our team is uniquely qualified to perform oral surgery, as we're also on the Trauma Team at the Santa Rosa Memorial Hospital!
If you have any questions, then please reach out to our team today!
Do You Have Questions About Our Surgical Procedures?
Our team wants to help you avoid the complications of injured or uneven smiles. If you would like to learn more about how we improve the balance of your smile, then contact your Santa Rosa, CA, oral surgeons by calling 707-545-4625.