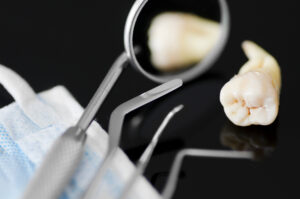 Oral surgery could mean a procedure as minor as a tooth extraction, to replacing missing teeth with dental implants or conducting a complex jaw surgery. Regardless of the procedure you're undergoing, we have tips to prepare you for the process. In today's blog, your Santa Rosa and Rohnert Park, CA, oral and maxillofacial surgeons talk about what to do before, during, and after your oral surgery. Being prepared and informed helps make the process a much easier one, and helps ensure a faster healing period.
When Should You See Us?
Our team is experienced in addressing issues too severe for a general dentist or orthodontist, such as impacted teeth, wisdom teeth, tooth extraction, and tooth loss. We can improve jaw symmetry and address facial trauma, and even secure a fixed set of dental implant dentures. Our team will work alongside your orthodontist or general dentist, so care can continue seamlessly as needed.
Before Your Surgical Procedure
We will talk to you extensively about your procedure, and what to expect from the process. In the eight hours before the treatment, we may recommend you avoid food and drink, as this is necessary for the administration of sedation. We will recommend arriving with comfortable clothing, and also a friend or family member who can bring you home afterward. The sedation we provide may leave you a bit groggy, and you will need someone to bring you home. All procedures will happen in our office, we won't send you to a different location.
Sedation and Anesthesia
We always plan the procedure in detail using the digital images we've gathered of your smile. We want to ensure you obtain care with precision and accuracy. In addition, our team has unique experience with treating issues like facial trauma, as our doctors are on the Trauma Team at the Santa Rosa Memorial Hospital, and we also follow strict guidelines, the same used in operating rooms. We will prescribe anesthesia and sedation based on your age, weight, medical history, and anxiety levels. Our trained anesthesiologists will also be on hand to monitor you throughout the procedure.
During Your Treatment
You will take any prescribed medications just before or when you arrive. When you're ready, we will begin the procedure. Your friend or family member can enjoy free coffee, water, and Wi-Fi while they wait. We will let you know approximately how long this could take. Some general extractions take as little as 30 minutes, while grafting and sinus lifts could take considerably longer. Some sedation options will leave you conscious, able to respond to the oral surgeon as needed, but with little to no memory of the procedure. You may feel some gentle vibrations, but won't experience discomfort.
After Your Procedure
When the procedure ends, we will send you home with detailed instructions for aftercare, and prescriptions for any necessary medications. For the first 24 hours, you may experience some minor swelling and discomfort, as well as skin discoloration. Use a cold compress to control swelling and take any medications as prescribed. As your jaw heals, be sure for the first 24 hours that you eat soft foods, avoid strenuous activity, and rest.  Use a cold compress for the first 24 hours, and a warm washcloth for the 48 hours following. This helps prevent swelling and ease strain in the treated areas. We may recommend a follow up visit to make sure the area is healing as it should, and to continue care as needed. Some may need follow-ups to continue orthodontic care, or to connect the implant crowns or prosthetics.
If you have any questions about oral surgery, and what to expect before, during, and after the procedure, then contact our team. Every smile is different, and the response to various oral surgeries will be different too. We have different instructions for implant placement, tooth extraction, and facial trauma. If you have a concern that requires surgery to address, then contact our team today to schedule a consultation. We want to ensure you enjoy optimal oral health, with results that not only improve health and function, but smile beauty too.
Do You Have Questions About Oral Surgery?
We want you to feel comfortable and informed about each step of the process, so there are no surprises and you're prepared for the healing process and any necessary aftercare. If you would like to learn more about your upcoming visit or procedure, then contact your Santa Rosa, CA, oral surgeons by calling 707-545-4625. We're ready to handle a wide array of crowns, from weakened jawbones and tooth loss, to facial trauma and imbalance jaw joints.