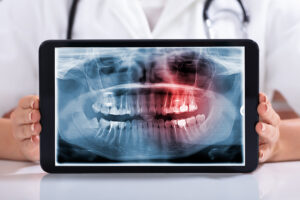 When we see patients for treatments, we want to take a close look at their smile and plan any treatment with precision. To do so, we offer more than just a visual exam or a traditional x-ray. Instead, your Santa Rosa and Rohnert Park, CA, oral and maxillofacial surgeons talk about use of digital x-ray technology.
Taking Your X-Ray Images
Instead of traditional dental x-rays systems, we use a digital option to create panoramic images of your entire smile, including your teeth, roots, jawbone, and oral structures. You don't need to use uncomfortable bitewings, as you simply place your chin on a special chin rest and a machine will encircle your head to gather detailed and high-definition images of your smile. The system uses 90% less radiation and the images are available instantly chairside, no waiting for them to develop in harsh chemicals. You spend less time in the chair, and these images can be stored digitally and easily sent to specialists or other dental professionals as needed. This is especially beneficial as we often work alongside your general dentist or orthodontics throughout the treatment process.
What We Look At
Our team will look at your teeth and roots for indicators of tooth decay or infection, or the potential eruption of wisdom teeth to plan a tooth extraction. We can look at your smile and jawbones to plan the placement of dental implants, or to plan treatment for facial traumas or grafting/sinus lifts to prepare smiles to revive one or more dental implants. We can plan the position of malpositioned teeth too, and plan jae surgery to bring balance and better smile esthetics to your jaw.
Benefits for Your Smile
Then images enable our team to offer treatment with precision and accuracy, protecting healthy bone and tooth structure and also ensure results are long-lasting and take the beauty of your smile into account. We will want you to feel proud to smile afterward! If you have issues with missing teeth, injury to the face or jaw, poor smile symmetry, or if you're being referred to us by your general dentist or orthodontics, we can use oral surgery and digital technology to return your smile to optimal health, beauty, and function. If you have any questions about this technology, then please contact our team today to start treatment with a digital x-ray!
Talk To Your Santa Rosa, CA Oral Surgeon About Our Diagnostic Process
Our team wants to offer a diagnosis for our patients with precision and accuracy. If you would like to learn more about our approach to oral surgery, then contact your Santa Rosa, CA, oral surgeons by calling (707)545-4625. A full, healthy, and beautiful smile is possible, so reach out to our team today.